THE CHURCH OF SCIENTOLOGY
OF HAMBURG
Welcome to the Church of Scientology of Hamburg.
It has been our privilege to serve parishioners, families and friends across the north from our home at the birthplace of the historic old city.
Our Church has been transformed to meet the needs of our growing congregation and the community. To that end, it now realizes the vision of Scientology Founder L. Ron Hubbard that all Churches of Scientology become what he termed Ideal Organizations (Orgs). Ideal Orgs not only provide the ideal facilities for Scientologists on their ascent to higher states of spiritual awareness and freedom, but they also serve as a home for the entire community and a meeting ground of cooperative effort to help people of all denominations.
We extend a permanent invitation to visit and find out firsthand about our religion, our many humanitarian initiatives and our programs for social and community betterment.
We also look forward to uniting with many more of the diverse groups and individuals across this city who share our goals for drug-free, crime-free and thriving communities. Working together in a spirit of good will, we can build the future of our dreams for the generations to come.
Our doors are open. Our help is yours.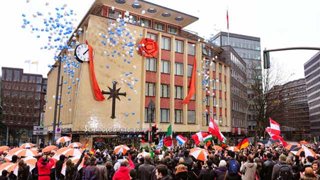 On January 21, 2012, the Church of Scientology of Hamburg newly opened its doors to the city in a dedication ceremony attended by 1,500 Scientologists, guests and dignitaries. The grand opening marked the culmination of a transformation of the seven-story Church into an Ideal Church of Scientology (Ideal Org) to better meet the needs of Hamburg's growing Scientology congregation and the community at large.